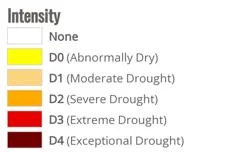 FRANKFORT, Ky. (KT) – Drought conditions have worsened in Kentucky, according to the weekly U.S. Drought Monitor report issued Thursday morning covering the seven-day period that ended on Tuesday morning.
The latest report shows 31.65% of the state having no drought, a slight decrease from last week's 35.30%. The area considered "Abnormally Dry," or D0 on the scale that runs from D0 to D4 (Exceptional Drought), stands at 28.34%, which is down from 41.72% a week ago. While that may sound encouraging, it's due to a rise in the area designated in "Moderate Drought" or D1, which is now at 39.83%, compared to 23.90% in the previous report. For the first time this year, a small "Severe Drought" or D3 area has been added this week, at 0.18% of the state. It is confined to the portions of McCready and Wayne counties that border Tennessee.
There continue to be no areas of Kentucky that are in either D3 or D4. See the map that accompanies this story, for the conditions in your county.
"Precipitation was nonexistent across the Midwest, with trace amounts falling in the lower regions and some of the snow from Canada reaching the northernmost parts of the Midwest," said Lindsay Johnson with the Drought Mitigation Center. "There was very little change for the region, with 1-category degradations in Iowa, Missouri, Illinois, eastern Wisconsin and southeastern Kentucky. Temperatures were generally near or below normal, except for most of Iowa and southwestern Minnesota."
Looking ahead, the Climate Prediction Center's 6– to 10-day outlook calls for above normal temperatures in Kentucky, with slightly below normal precipitation. Their 8– to 14-day outlook for the state has a continuation of above normal temperatures, but with slightly above normal precipitation.
The weekly U.S. Drought Monitor is produced through a partnership between the National Drought Mitigation Center at the University of Nebraska-Lincoln, the U. S. Department of Agriculture, and the National Oceanographic and Atmospheric Administration (NOAA).